11. IVSHMEM Library
The DPDK IVSHMEM library facilitates fast zero-copy data sharing among virtual machines (host-to-guest or guest-to-guest) by means of QEUMU's IVSHMEM mechanism.
The library works by providing a command line for QEMU to map several hugepages into a single IVSHMEM device. For the guest to know what is inside any given IVSHMEM device (and to distinguish between DPDK and non-DPDK IVSHMEM devices), a metadata file is also mapped into the IVSHMEM segment. No work needs to be done by the guest application to map IVSHMEM devices into memory; they are automatically recognized by the DPDK Environment Abstraction Layer (EAL).
A typical DPDK IVSHMEM use case looks like the following.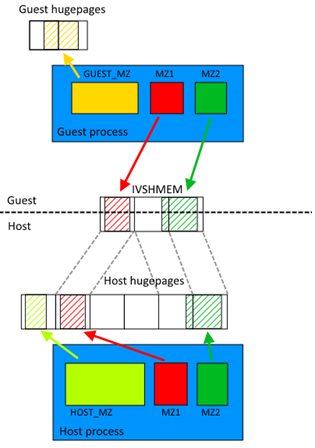 The same could work with several virtual machines, providing host-to-VM or VM-to-VM communication. The maximum number of metadata files is 32 (by default) and each metadata file can contain different (or even the same) hugepages. The only constraint is that each VM has to have access to the memory it is sharing with other entities (be it host or another VM). For example, if the user wants to share the same memzone across two VMs, each VM must have that memzone in its metadata file.